I fixed up the Forums, so Registration should work again. I allowed myself an hour to update the header images of both the forums and wiki to look like from this decade.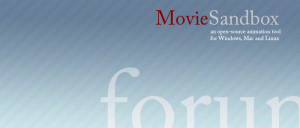 The Mailinglist has been purged of spam (I hope) and I will send out a mailing tomorrow). I would still be happy to hear about alternatives!
I also started the slow but rewarding process of adding content and order to the wiki, starting with a description of all interface elements.
Please check the Bugs Page, now updated, for known issues and changelists between the nightly builds.
Note: Wiki and Forum registration is linked, meaning that you can log in to the wiki with your forum account.
Please feel free to voice your bug reports in the Nightly Builds Bug report thread. Comments are obviously also a valid channel for feedback.
Here's the current list of known issues and the changelist from the first nightly build, as copied from the wiki:
Known Issues
* "click here to register" on the wiki is a dead link.
* loading a scene with missing mesh references causes CTD
* Intel Media Accelerator Graphics cards either crash or don't display geometry despite support for OpenGL 2.1
* merging two drawing does not work if they are both the same mesh!
* PerformAction does not stop after hitting play again
* duplicating of skeletalActor with bones does not work, leads to CTD
* ViewportGizmo gives strange distance results on click
* combine drawings not implemented but in menu
* split drawing not implemented but in menu
* font size too small, cursor hard to see
* userPopUp does not close if bad mesh is loaded
* unclear distinction between "PerformAction" and "SetAnimation"
* SetAnimation does not stop after scene stops – unless it does sometimes…
* actionlist goes a bit bonkers when too many actions added
changelist nightly build 12.03
* fixed bug in move/rotate
* prepared drawing with meshes
* added "View" menu to menubar
* fixed sliderButton rendering
* fixed ViewportGizmo rendering
* added "z-Distance check" when holding Shift key in Skinning Tool
* implemented brush intensity in skinning
* added preview in brushinspector for brush size and intensity
* fixed LayerInspector Tab switching
* added mouseOver highlighting for layerinspector
* removed gizmo from grid and ground
* made grid un-clickable (can still be selected in helpers menu)
* changed the way right-click actor-menu rotate/move works – now more in line with how navigation works
* removed mouse warping in all version to make more tablet friendly
* added bWarpMouse to config.xml – set to 1 to re-enable mouse warping
changelist nightly build 12.02
* fixed window scaling funkyness