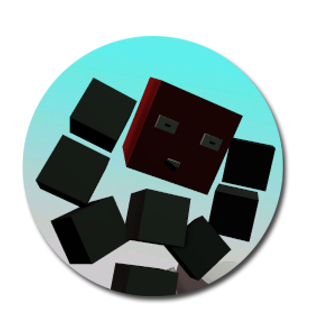 This is a list of frequently asked questions about Moviesandbox. It's not a technical FAQ page! If you have a technical or feature question, please refer to
the Wiki or the Forums!
——————————————————————————————-
What is Moviesandbox?
Moviesandbox is an Open-Source 3D realtime animation tool with focus on ease of use and quick sketching. Instead of modelling characters and props like in traditional 3D Applications, you can just draw things into the scene, or scan them using a Microsoft Kinect or other scanning software. This leads to a somewhat unique art-style that is different to the common 3D computer-game look of other realtime-animation tools. It also leads to a different workflow that is much more iterative and, hopefully, fun. If you are unsure if Moviesandbox is for you, go take a look at the Examples page to get a feel for how it works.
Why should I use Moviesandbox?
Moviesandbox is free, which means that you can just download it and play around a bit to see if it is for you. It also works in realtime, which means that you will see pretty much exactly what your movie will look like. While this means that you probably won't be producing the next Shrek or Wall-E with it, realtime animation is a great way to sketch out stories without getting too technical. Instead of importing from programs like 3D Studio, you can directly draw into the scene or use a Microsoft Kinect or a home-made Milkscanner to get characters, props and scenery into your movie. Check out the Examples page to get a feel for what that might look like.
What are the minimum Hardware requirements to run MSB?
As of this writing, you will need a Windows PC or Macintosh computer (Linux version is in the making) with a healthy amount of RAM. The biggest bottleneck so far is the graphics card. You need at least an OpenGL 2.0 compliant graphics card, like an ATI Radeon X1600 or GeForce 6 or equivalent to run Moviesandbox.
The optimal hardware is a fast, current generation graphics card (I use a GeForce 8800GT) and 4GB of RAM. Multiple processors/cores do help!
Why are you not using OGRE or work with/on Blender?
There are a couple of reasons for that. First of all, I do belive that the workflow I wanted to implement for Moviesandbox doesn't suit itself to OGRE, as it would have required some changing around of the structure – as I am using Particles instead of triangles as the basis for a lot of things and a whole bunch of Framebuffer Objects. Another reason is that I wanted to learn how all of this 3D stuff works, and thus build my own renderer. Same goes for Blender. While I think Blender is amazing software and would encourage everyone to use it, Moviesandbox has different key concepts that I feel would have required a lot of tinkering with the structure of those programs.
Finally, after poking around with UnrealScript (MSB was based on Unreal Tournament 2004 from Epic Games for a long time), I really wanted to avoid tinkering with giant code-bases and conventions.
Why are you not using Unity or Unreal SDK or plattform X?
I feel that the whole "free as in free speech" thing is kind of important. While both of these tools (and many others, like Torque, etc.) are great and all, they are really game engines, designed to create games. I wanted to focus on the animation part of things. And I wanted to make animation software that everybody would have access to.
Who owns the rights to the movies made with Moviesandbox?
Moviesandbox is just a tool. It's also free and will be forever, and Open-Source. If you make a movie with it, it's yours. If you use other people's work in your movie, you would obviously have to get permission from them before you publish it and stuff, unless you claim fair use (obvious disclaimer that I am not a lawyer). All of the assets that come with the basic Moviesandbox installation are free for you to use too. So if you go and make lots of money with Sticky the Stickfigure, that's cool.
What is the difference to 3DStudio?
Moviesandbox is based around the idea of drawing into space. This generates lots of tiny points and not triangles, like 3DStudio or Maya usually does. It's a different concept, and for some things it's really stupid, but for other things it's really cool.
3DStudio also has bajillions of features that Moviesandbox doesn't. Don't expect a fully featured 3D Modeller or import/export to hundreds of formats please. Moviesandbox is pretty self contained when it comes to this stuff. And it's small and specific and young and afraid of asking if it can play ball with the others.
I have an idea for an animated movie, will I be able to do it in MSB?
At this point in time, Moviesandbox is a bit shaky, so I would advise to not base your next animated series on it, unless you really feel like you know what you're doing. In case you like it and you feel it can be useful for you, but have some questions, feel free to shoot me an eMail or post something to the forums. I'll do my best to give you an honest indication if MSB is the way to go.
Most often though, it probably isn't quite there yet.
What are the projects that have been done so far in Moviesandbox?
You can go have a look at the Examples page to get a feeling for the things I (and soon, others!) have done in Moviesandbox. This will hopefully also give you an indication of the art-style, workflow, and technical proficiency needed to use the program at this stage.
Will you implement feature x? I really need feature x for my movie…
Depending on the type of feature, there's a good chance that I will implement it if you really need it and it's not too much work on my part. Super-obscure things are obviously low priority, but if you need Moviesandbox to create a sequence of JPG files instead of TGA, that kind of stuff, is often easy to put in. Drop me an eMail or post on the forums and we'll take it from there!
Moviesandbox doesn't work. Can you fix it?
It's a Beta release, so yes, a whole bunch of things are still wonky. It's best to post your problem to the forums and go check out the Bugs page on the Moviesandbox Wiki.